Plastics machinery manufacturer Engel (Schwertberg / Austria;
www.engelglobal.com
) has opened a new technology centre, called Innovation at heart, at its headquarters site in Schwertberg. With a pilot plant for vertical integration in injection moulding, the company will be able to support its customers more comprehensively on the path to implementing the smart factory concept, said CEO Stefan Engleder. The centre is the heart of the latest expansion at company headquarters, thus the designation.
Boasting 1,700 m² of machine floor space, the Engel technology centre is a plastics processing operation in its own right and one of the most modern in the world, the company claims. Its own production team is the first user of all newly developed inject 4.0 technologies, Engleder noted. The machinery producer already bundles a large number of its products and solutions for the smart factory under the inject 4.0 banner. A number of others are in the development pipeline for introduction at K 2019 (
www.k-online.com
).
Leveraging the concept of vertical integration, Engleder explains that the Austrian companys technology centre provides practical demonstrations of integration beyond the boundaries of a single location, as it is connected to the technology centres at the companys plants and subsidiaries worldwide. Key products for this are the Engel e connect customer portal and TIG authentig.
In addition to transparency, intelligent assistance systems make a major contribution towards boosting production efficiency in the smart factory, the machinery manufacturer stresses. All the machines in the new technology centre are equipped with a variety of assistance systems from Engels iQ product family. In addition to the already established iQ weight control, iQ clamp control and iQ flow control, the new iQ systems that the company will present at K 2019 are to be deployed in the technology centre at a particularly early stage.
Part of consortium for new R&D centre in Linz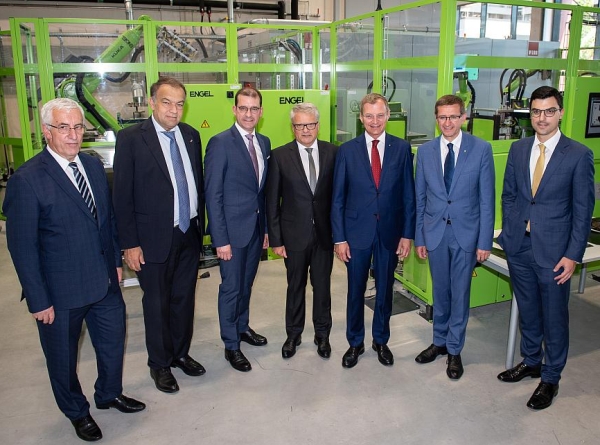 25 mainly German and Austrian companies are involved in establishing the "LIT Factory" (Photo: University of Linz)
Engel is also among 24 other companies including polyolefins producer Borealis, recycling machinery manufacturer Erema, packaging company Greiner, technology giant Siemens and composites specialist FACC that have been involved in creating the LIT Factory located in Linz / Austria. The factory, a testing facility that is part of the new "LIT Open Innovation Center" at the Johannes Kepler University Linz, will use digital processes to conduct research and further the development of plastics and polymers along the value chain, such as with materials, product development, production and recycling.

There is 1,480 m² of floor space designated for smart injection, extrusion and recycling. About the factory, Stefan Engleder, Engel group CEO and spokesman for the LIT Factory industrial advisory board, said it focuses on polymers as well as lightweight construction, digitisation and end-to-end solutions in particular.
More news on Plasteurope.com...