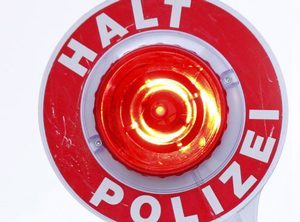 This plastic stop sign used by German police is hand held: Whats the braking distance at 372 km/h on the Autobahn? (Photo: PIE)
Germany is one of few countries in the world that draws tourists for its highways. Or rather, for those sections that do not have a maximum speed limit something unique across the globe. No wonder, then, that a video has been making the rounds on the internet featuring a LaFerrari driving a whopping 372 km/h. For those not versed in the metric system, thats 231 miles per hour.

While the speed itself is not illegal on some German motorways, the act of holding your mobile to film yourself driving at this breakneck pace will have any policeman you pass on your cars boot faster than you can say Ive got the metal to the pedal and the thing to the floor.
More news on Plasteurope.com...